Sarcófago - I.N.R.I. - 1987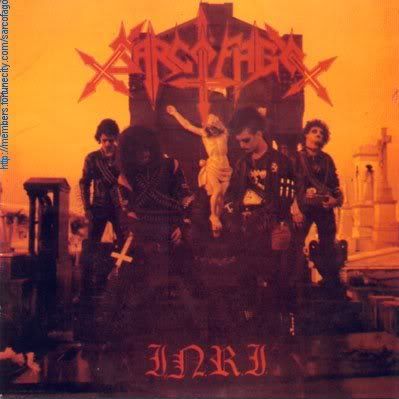 01 - Satanic Lust
02 - Desecration of Virgin
03 - Nightmare
04 - I.N.R.I.
05 - Christ's Death
06 - Satanas
07 - Ready to Fuck
08 - Deathrash
09 - The Last Slaughter


[3:11]
[1:59]
[5:39]
[2:08]
[3:37]
[2:06]
[3:28]
[1:36]
[4:38]
"Satanic Lust"
The night is cold
and the sky is without light
only a darkned moon
will be the witness in this night
First hymnes are heard
the invocation starts
with love they call
lord's presence is the harvest
The sacrifice is done
a innocent virgin is dead
bodies start to fuck
total orgasm is consumed
The dead virgin
now is fucked
sodomy in this night
necromancy is complete
Chorus:
Pleasure and delight
satanic lust
---
"Desecration of Virgin"
Seven night before
of scared birthday
the lord make himself
present at virgin's home
Demons suck you pussy
and fuck 'til the delight
she isn't more virgin
because was fucked by Satan
He put the virgin of for
fucking your asshole
the orgy haven't stop
ejaculating on her mouth
She suck... a hammer of Satan
and reach the first orgasm
he breack laws of God
and prophane the mother of Gods
---
"Nightmare"
Behind the gates only death
burning your mind you hear the bell
the gates are open for your entry
light of day turn to the darkness of hell...
Chorus:
Nightmare
Skull and putrid corpses
sads and somber places
and you cry tears of blood
because you are dead
Now will go prowl on endless night
remembering yours blasphemes and lies
I will never give mercy to you
but Satanas want your sinner's soul
You will never return
never...
---
"I.N.R.I."
They say you've born to the eternal kidness
and that was conceived by divine grace
that cama to finish with the pervetion and evil
and died on the cross to humanity save
The pervetion and evil only start after you came
because you was only a crazy lier
false saints were with you on your insanity
and the more stupids believed on you
Thieves and corrupts
now eleited priests
they sellet pieces
of cloth saying it were yours
the chief of insanity
now is reigning at rome
the pervetio and evil
only start after you came
---
"Christ's Death"
Day of your death arrive's
inquest are open to you
lies don't be heard
your only sentence is death
Miracles and words don't save you
you never will be the higher
the hour of your death is now
your life don't extend so forever
Chorus:
Christ's death
Satan in hell
a wait for you
you are welcome
to your nightmare
You cry for your father
but he don't remember you...
---
"Satanas"
On fire of darkness
rise a scream of hate
Satanas want vomit
on son of God's face
your eyes have wrath
and promiscing a slaughter
the angels of lucifer
are ready to destroy
Chorus:
Satanas
Satanas revengeis started
and the heaven is burning
God angels are deads
and the survivors are praying
the sacred cross is breacked
and demons are smiling
because your lord Satanas
raped the mother of false
Chorus
---
"Ready to Fuck (all the bitches)"
Stand up to see
my penetrator hammer
he will make your dreams
turn to reality
I will lick you
of the feets 'till the head
making you feel torrential orgasms
Oh lady start to suck me
because I'm ready
I'm ready to fuck
Stand up to feel
my machine of delight
he will make your reality
turn to a dream
---
"Deathrash"
More a hard core metal night start
let me torture you with my growls
making you burst your head on the stage
playing the simphony of atomic war
If you are a false don't entry
because you'll be burned and died
the nuclear drums will chrush your brain
slaughtering all with intensive pain
Chorus:
The blood of your heads
spread in our faces
violence and death
are with we desire
not that's enough
we want more blood
come up on stage
drag out our heads
deathrash
Get out here and destroy all
killing all falses bastards
because is this with we want
this is our message...
---
"The Last Slaughter"
Screams of chaos
the final bloody is started
kill or die
save your putrid life
is the enf of universe
the death is on your back
dark angels on massacre
make the blood turn black
Chorus:
The last slaughter
Wrath and torment
is the God's final slaughter
now our mission
finally is terminated
Chorus
Satanas want
fuck your putrid life...
burn in hell
Panic and fear
on this hour fell
now the God's son
are falling to hell...